I was thinking about building a fancy condominium here:
The proposed footprint would be a 43x43 block circle that goes from -62, -40 to -19, -83.
- Large projects must be approved by City Planners! (Anything over roughly 30x30)
Even if you only count the squares within the circle this is still the equivalent of a 33.75x33.75 area.
Here are some pics of some things I've started on creative single player:
(Note that these are all just sketches of what I want the building to look like. I have not built the thing all the way around.)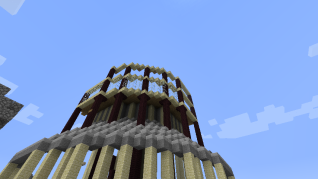 Looking up from the ground. Note that the highest of those sandstone rings are only 32 blocks up. Once all the floors are on I expect the structure to reach a height of about 62 blocks, [see Edit below.] Compare that to the chest tower which is a little over 40 blocks high.
I was thinking about leaving the lobby area open on all sides so that the building does not become something that people have to walk around. In the center I'm leaving space for a
piston elevator to the different floors.
skylight and stair case. I would add an elevator but making it stop on selected floors is beyond me.
As you can more clearly see from this angle the structure tapers in to a diameter of 27 and then expands back out to a diameter of 35 for the main floors. A diameter of 35 leaves me enough room to cut each floor into separate condos that don't feel to cramped.
I could crunch the whole thing down to fit within the 30x30 limit but I think the building, and therefore the aesthetic of the city, would suffer for it.
As for the roof I plan on adding a heli pad or leaving it fairly simple and flat.
EDIT:
I've redone the floors so that each ceiling to floor area, (not the floor to ceiling area,) is 3 blocks thick. This allows room to (1) hide redstone dust to power exterior lights that are hooked up to a light sensor, (2) install the piston showers like in the pool locker rooms (3) allow some variation in floor height. The thicker floors also mean that a overhead light on floor one does not also become a ground light on floor two. This does add another 2 blocks to the total height per floor.