Ok, so this past week, while I was away visiting family and unable to set aside the time I need to play endless hours on 60G

, I instead spent a lot of my free time designing the gold farm I'd like to build for the server. I've come up with something that will take forever to build (which I'm fine with...I like mindless drone work in minecraft, lol), but should end up giving a somewhat decent supply of gold nuggets. Here are the stats of what I have so far:
- the farm itself is 21X21 (I didn't bother measuring height, if anyone wants to know what it is I certainly can measure it!)
- 3 levels of interconnecting portals, with a total of 342 portals (yes, that is a ridiculously high number, but believe me, that is a bare minimum for the gold farm to be of any efficiency whatsoever)
- average of about 1 zombie pigman per 30 seconds
- the farm has a kill switch, so you can get experience if you want from the zombie pigmen
Some concerns:
- There is no way to turn off the portals without destroying them, meaning that they will always be on...
- Since the portals can't be turned off, there is a potential lag issue
- I'm thinking that I would need to build the gold farm somewhere "in the boonies"/out of the way because of the potential lag problem. (Here, I'd like to add that I don't mind building it near my mansion as it wouldn't require me to transport all that obsidian...but I'd like to hear what you all think! I'd rather build it somewhere that's convenient for everyone)
- people might want to use a sword with looting enchant to get a better rate of gold nuggets...which is also a potential problem because (I'm pretty sure that) if you attack zombie pigmen in the overworld, they will attack you in the Nether near the portal (until the Nether gets reset, that is)
- this is probably an obvious one, but I am going to need a butt load of obsidian (again, I don't mind doing all the mining/grinding for the obsidian, it'll just take a reeaalllly long time!

)
Here are some pics of what I've come up with: (I have not beautified the place yet, but I certainly intend to!!! The dirt will be replaced with much better looking mats!)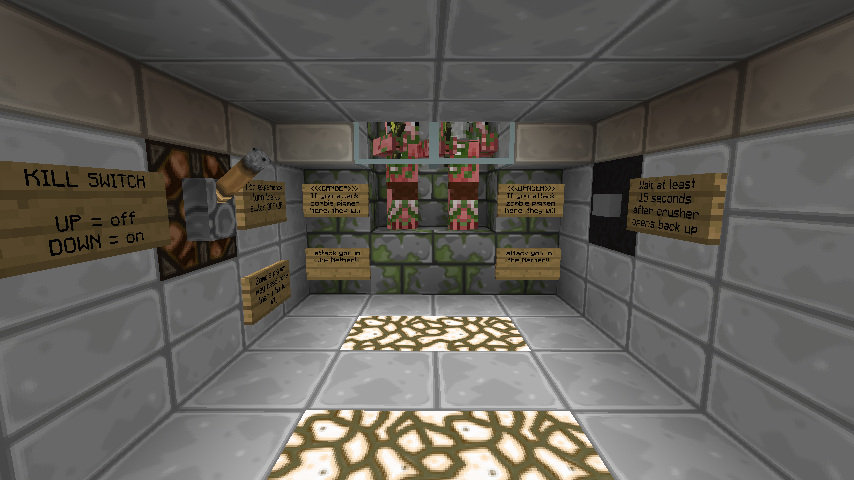 The crusher - where the magic happens!! This is the only place I've actually bothered designing the aesthetics for, as of right now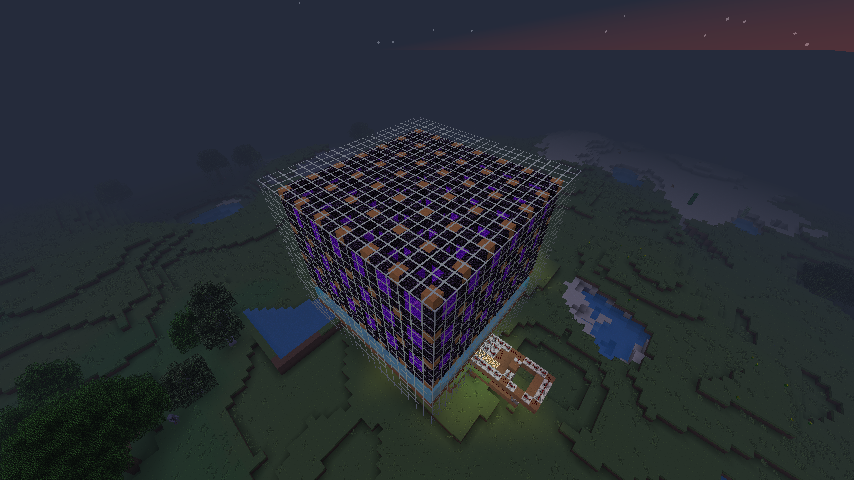 View from above - sooo many portals!!! ;D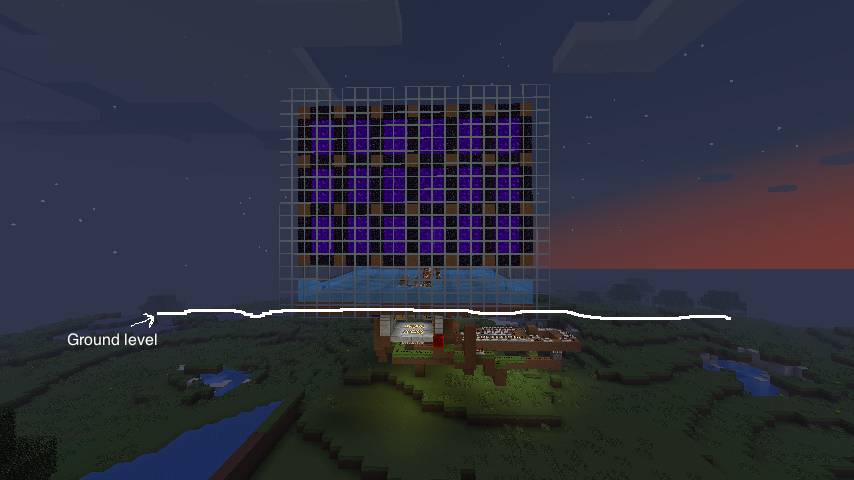 I built my design in the air so I wouldn't have to dig into the ground, but in the server all the redstonery and the crusher room itself will be underground - the white line signifies where ground level will be.
Ok, so that's it for now. I am more than happy to hear your thoughts and suggestions!! This is, after all, going to be the server's gold farm, not mine!